In order to remain a company friendly to the earth
Sanritsu Chemicals is committed to global environmental conservation activities on our own responsibility to contribute to creation of a sustainable society.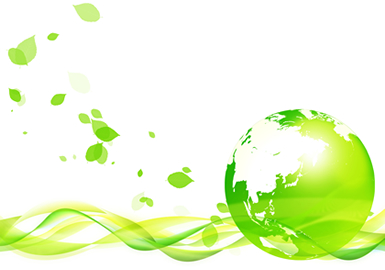 Environmental Philosophy
Sanritsu Chemicals Co., Ltd. gives active consideration to environmental conservation in the business practice centered by commercial distribution, installation and maintenance of machines and devices and in the office activities in an effort to prevent contamination, thereby contribution to sustainable development. To this end, the Environmental Policy has been established to comply with environmental statutory regulations and other requirements. The following specific initiatives will be determined to establish and periodically review environmental objectives and goals and continue improving the environmental management system.
Specific initiatives of the objectives and goals
1. Procuring and selling green products
 Expand procurement and sales of environmentally-friendly products

2. Managing energy saving and resource saving activities and developing human resources
 Develop environmentally-conscious human recourses engaged in maintenance of electricity and gasoline and segregation of waste
ISO14001 certified
Sanritsu Chemicals Co., Ltd. acquired ISO14001 certification in June 2006. As a corporation, we implement and continue environmental conservation activities. We conduct internal audit on a regular basis and are committed to the environmental management in compliance with ISO14001.
(Certification acquired only at the head office, Matsusaka Office and Fukuyama Office.)