About Business of Sanritsu Chemicals
The businesses of Sanritsu Chemicals consist of three pillars - electronics solutions business as a core line of business. eco-refreshing solutions business and new development business. We primarily handle electronic components and electronic materials, providing total consulting from development to after-purchase servicing. In recent years our focus has been placed on the new development business and we are actively challenging for creation of a new business.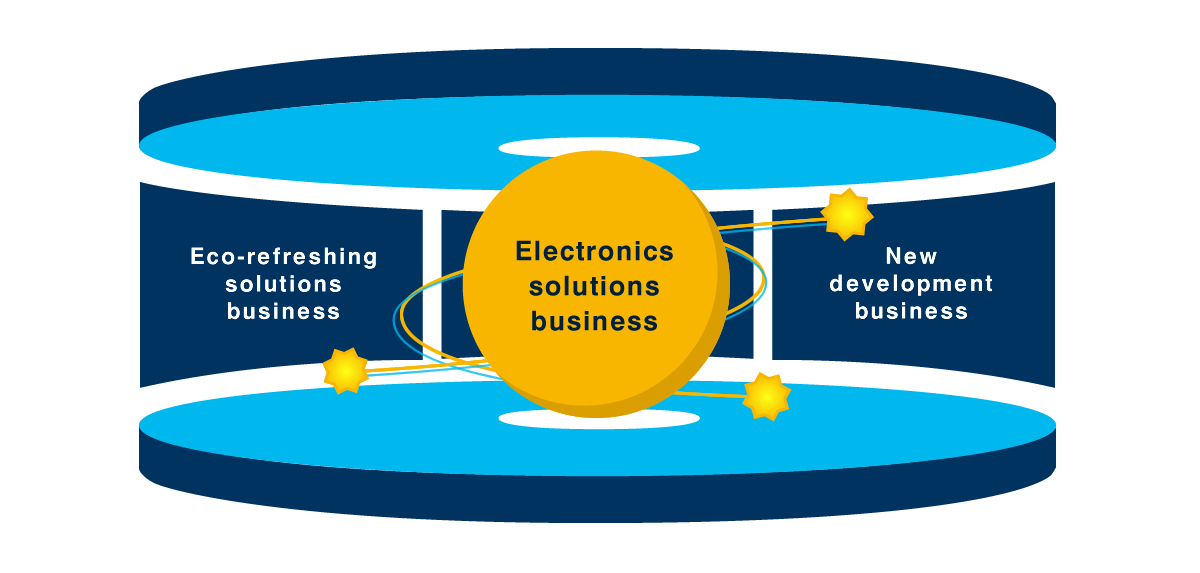 Electronics solutions business
We keep providing higher-dimensional products and technologies by judging the market environment.
"Display field," "semiconductor field" and "printed-wiring board field" are our core business. In the display field, the liquid crystal technology is important for everyday life as used in liquid-crystal televisions, mobile phones and various information devices and we supply manufacturing equipment and materials related to first half processes as well as latter half processes for liquid crystal in a comprehensive manner. Semiconductors that serve as the heart of various electronic products that support modern living. We supply core members of semiconductors as being devoted to research and development in constant tie-ups with specialized manufacturers and we will continue on with the ever evolving electronics field. In the field of printed-wiring boards, we will handle a broad range of printed-wiring boards and supply products through colorful business development from CAD design to manufacturing of printed-wiring boards and implementation of components. We have realized a shorter lead time based on long-term accomplishment and unique knowhow and have gained great trust.
Eco-refreshing solutions business
Proposing technologies essential for realization of an ecological society to all sorts of industrial fields.
We will meet the needs of various fields including sales of LED lighting which is now the main player of lighting because of low power consumption and long durability and electrodeless lamps and supply of repair materials used in repair work of plant buildings and general buildings. We will be further devoted to research and development with an aim to develop higher-dimensional technologies that will be used broadly in an ecological society.
New development business
Opening a new area of business, we will aim to make a further leap.
In order to open a new area of business, we at Sanritsu Chemicals aim at business development in response to customers' new business strategies in partnership with universities, research institutes and venture companies. We will be active in further expanding the existing businesses, developing a new business that will earn new profits in the future and challenging a business in a new area to promote expansion of businesses for the future.