Strengths of Sanritsu Chemicals
Sanritsu Chemicals is a trading company focused on electronic components and materials. Leveraging four strengths, Sanritsu Chemicals proposes an optimum solution to the customer.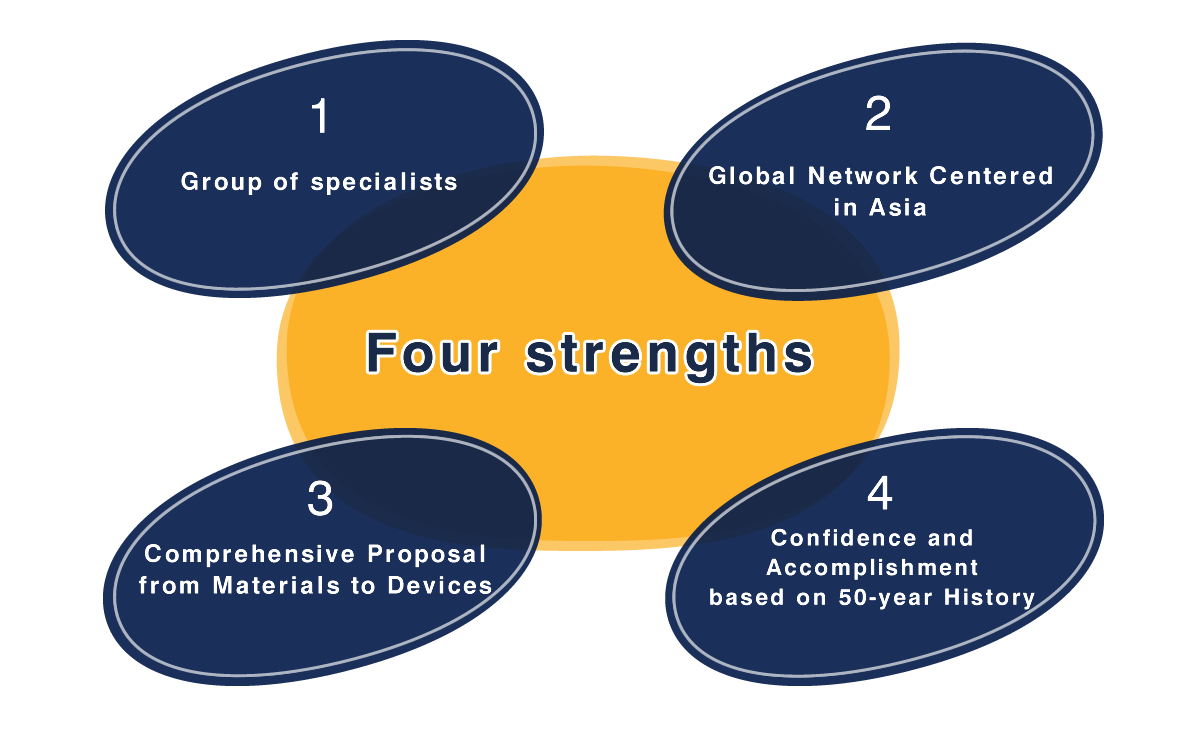 Group of specialists
Rich knowledge, experience and technological capability
Sanritsu Chemicals has unique knowhow acquired in research and development pursued jointly with specialized manufacturers with a high level of technological capability in addition to the long-term supply records of electronic components and materials. Support is provided to you by our experienced specialists in product development and sales, transport in and out of Japan, installation and maintenance by engineers.
Comprehensive Proposal from Materials to Devices
Our total power supports the business from supply of materials and components to consulting
Through information collection on a world scale, updated information and data on market trends and advanced technology are assembled. With deployment of three businesses including electronics solution business, eco-refreshing solutions business, new development business, we respond to the needs in a wide range of business fields. Leveraging such total power, we perform consistent consulting services from design to operations and maintenance. Now that the global market is about to face a great change, with broad ability Sanritsu Chemicals is proud of, we support the customer's business in a comprehensive manner.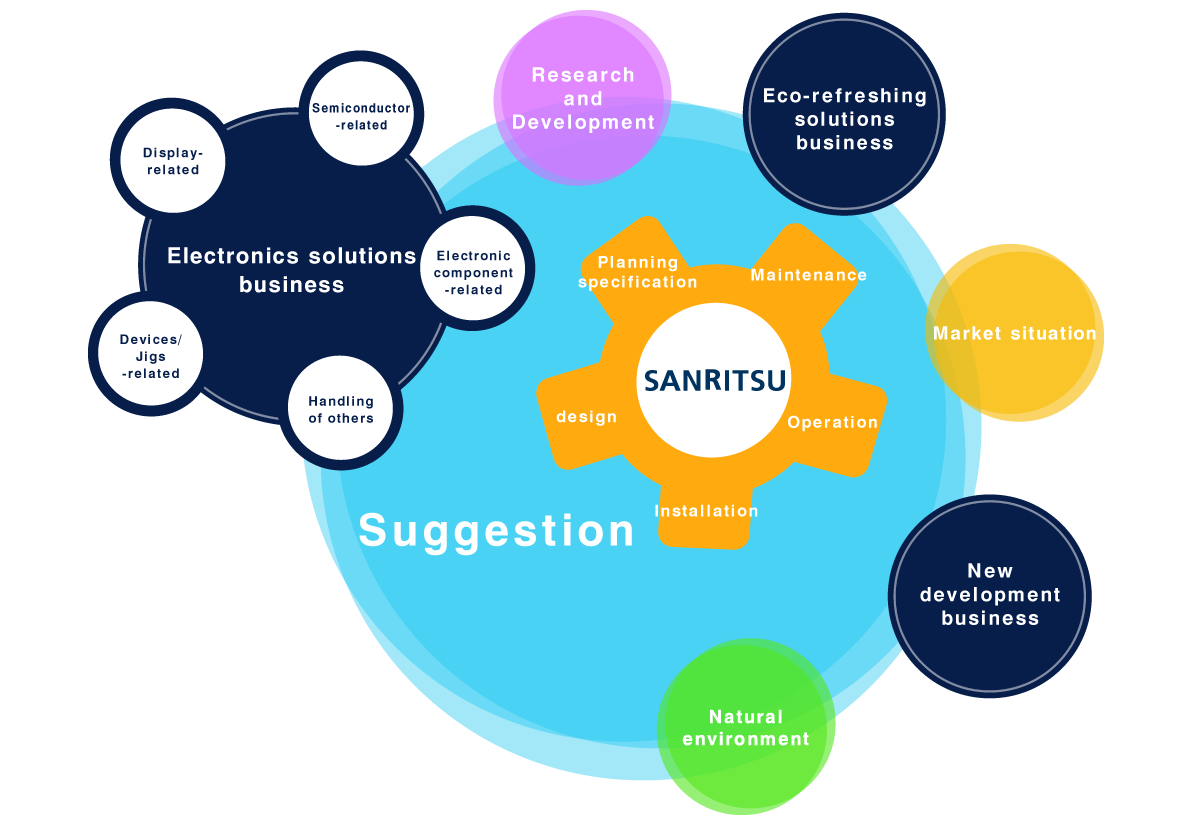 Global Network Centered in Asia
Domestic and overseas sales bases
Sanritsu Chemicals actively deploys overseas strategy for supply of new materials and composite materials in response to the progress of the electronics industry. Starting from Hong Kong Sanritsu Chemicals in 2001, sales bases have been established in Shenzhen, Shanghai and the US to provide products, information and solutions mostly from Asia to customers. As we can respond in both Japanese and local language at all bases, please feel free to contact us for any questions.



Confidence and Accomplishment based on 50-year History
Proposing the next-generation technology with a view to the future of the global environment
Sanritsu Chemicals was founded in May 1969, sold mainly large tanks, pipes, etc. made of FRP essential to various types of plants, then launched water-related molded products for apartment buildings and hotels and then entered into the electronics industry as a trading company specializing in electronic components and electronic materials ahead of other companies in 1975. In due course we have made a great contribution to the industry through supply of electronic devices, their related products as well as liquid crystal-related products and gained trust from numerous companies. And this year Sanritsu Chemicals is reaching a significant milestone of its 50th anniversary. Today, we deploy a new field of eco-refreshing solutions business with a focus on supply of products related to displays, semiconductors, wiring boards, etc. and also pay attention to development of new businesses in an attempt to create and propose new added value. Furthermore, in our steps toward a global company, in full awareness that the company is a member of society, we endeavor to comply with the law and take fair and transparent corporate activities, make a commitment to active environmental conservation activities and provide technologies that go one step ahead of the times, by making new business-style proposals at all times.